Project Scope:
Pedersen Planning Consultants (PPC) was retained by the Carbon County Higher Education Center (CCHEC) to determine floor space and site requirements for a centralized facility or complex where all CCHEC programs in Rawlins, Wyoming could be consolidated. CCHEC also desired guidance concerning where a consolidated facility or complex might be located in the City of Rawlins.
Floor space requirements were primarily determined through a combination of individual and group interviews of 13 CCHEC program directors, instructors, and administrative personnel.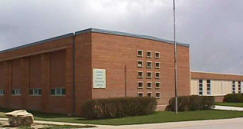 Main Campus, 705 Rodeo Street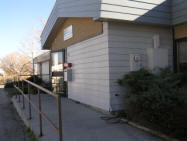 Vocational Campus,
812 E. Murray Street
This consultation enabled PPC to gain insights concerning the type and scope of instruction, anticipated student enrollments in each program, the preferred types of furniture, fixtures and equipment required for instruction, as well as desired facility relationships between instructional, hands-on laboratory, and student testing areas. The same process provided guidance for administrative floor space and common space areas.

This information gained from CCHEC personnel enabled PPC to determine potential floor space requirements and prepare conceptual floor plans for adult basic education, health education, vocational and industrial training, as well as administrative and student services areas. Floor space requirements and conceptual plans were also developed for a child care center that would accommodate about 53 children. Common space areas included requirements for a small café and commercial kitchen, as well as a student lounge.

Subsequently, PPC identified and evaluated site requirements that would be needed to support the operation and maintenance of the potential facility or facility complex. This analysis focused primarily upon determining the size of the overall building site, as well as vehicular access and parking requirements.

The second phase of the study examined several alternate sites in Rawlins. The sites selected for this analysis were based upon anticipated floor space and site requirements, the compatibility of an educational facility to adjacent land uses, the accessibility of supporting infrastructure, the suitability of the site for vehicular parking, pedestrian access, and other potential site amenities. The constraints and advantages associated with each alternate site were identified. A preferred site was ultimately recommended for future facility development.

The final phase of the project involved the evaluation of potential opportunities to establish partnerships with other agencies and organizations in Rawlins to develop a multi-use facility or complex. This evaluation was derived from discussions with representatives of the Boys and Girls Club of Rawlins, Carbon County Museum, and Carbon County School District 1.